The cost of a 4-year medical school education can range from $200,000 to more than $250,000. These costs often differ substantially between public and private institutions, as well as between in-state and out-of-state students.
With a record number of applicants at schools across the country and rising inflation in the U.S., costs are likely to continue climbing. Fortunately, there are many funding opportunities available to help students reach their goal of a successful medical career.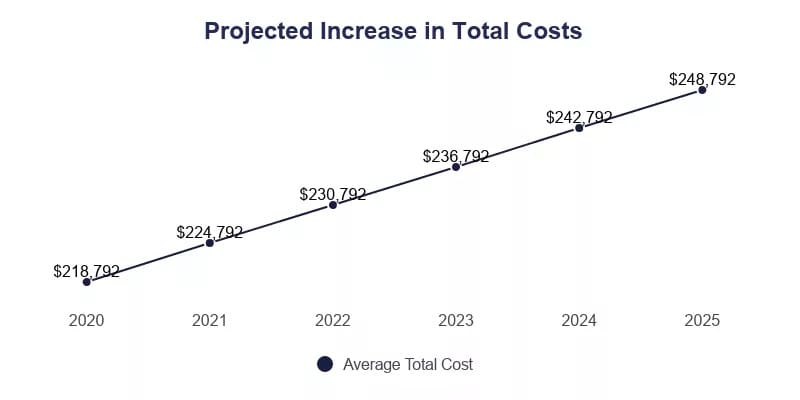 Let's take a look at the costs to expect and the best ways to finance your education.
Schedule a free 15-minute consultation with MedSchoolCoach to learn how we can help boost your chances of success getting into medical school.
How Much Does Medical School Cost?
Medical school tuition in 2023 ranges from $25,000 to $65,000 per year. On average, the cost of medical school is $57,574 per year for a total of $218,792 over four years.
Private medical schools cost an average of $63,337 per year of medical school, while public medical schools cost an average of $51,812 per year.
How to Pay for Medical School
The top 3 ways to pay for medical school are:
Free-tuition work study programs and schools
Scholarships and grants
Federal and private loans
Which of these methods is best for you depends on your unique background, financial need, and career goals.
Free-Tuition Work Study Programs and Medical Schools
There are a small number of totally free medical schools, and several opportunities for work study programs that cover the total cost of a medical education. Of these, nearly all require a specific type of work or service in return, either during your education or after.
The free-tuition medical schools and work study programs available in the United States include:
Watch the Webinar: A Crash-Course in Paying for Medical School: 10 Ways You Could Save $10,000
Scholarships and Grants
Many scholarships and grants can help students pay for medical school in full or in part. The difference between scholarships and grants is that scholarships are typically merit-based (given for achievement), while grants are usually need-based (given due to financial limitations).
The AAMC maintains a list of many scholarship, loan repayment, and forgiveness programs available to medical students. AAMC's searchable database is not exhaustive but can help you find options that fit your location and specific needs. FastWeb and Ed.gov offer searchable databases for scholarships, too.
We've compiled a list of some of the most notable scholarships available to medical students. In addition to these, consider looking into scholarships offered by your specific medical school, local organizations (like rotary clubs), and various online organizations.
Full-Tuition Scholarships:
Scholarships for the Underrepresented:
Scholarships specific to Medical Students:
Federal and Private Student Loans
While the previous options don't require repayment later, the final option — student loans — must be paid back after your education is complete.
How much student loan debt does a student have after med school? Adding the cost of undergraduate studies plus medical school, the average medical student graduates with between $200,000 and $215,000 in student loan debt.
In general, federal student loans are better than private. They have lower interest rates, don't require a credit check or co-signer, and are eligible for loan forgiveness programs. Private loans, on the other hand, require a credit check, a co-signer (depending on the borrower's credit history), and aren't eligible for loan forgiveness.
For many students, it's best to max out the total amount they qualify for in federal student loans, then get private loans, if absolutely necessary, to cover the rest.
Federal loans require applicants to be U.S. citizens or noncitizens with a valid Social Security number, be enrolled in a medical degree program at least half-time, and keep satisfactory academics to maintain eligibility.
There are three basic federal loan types for medical students:
Direct Subsidized Loans: Direct Subsidized loans are calculated based on the applicant's financial need and the school's cost of attendance (COA). Direct Subsidized Loans do not charge interest while the student is enrolled half-time.
Direct Unsubsidized Loans: Direct Unsubsidized loans are calculated by the school's cost of attendance minus other financial aid received. Interest is charged at all periods and unpaid interest may be added on to the loan's principal amount.
Direct PLUS Loans (Unsubsidized): A credit check is required, but the Direct PLUS loans are calculated by the school's cost of attendance minus other financial aid received. Direct PLUS includes two types of loans:

Grad PLUS Loans: Loans issued to graduate and professional students.
Parent PLUS Loans: Loans issued to the parents of the student.
Private loans are made by private lenders that set their own terms and conditions. There are as many types of private student loans as there are banks.
What Is the Best Way to Pay Back Student Loans?
The 3 best repayment options for medical school loans:
Get on an aggressive repayment program.
Use your signing bonus to pay off medical school debt.
Save money by living like a resident after residency.
Student Loan Repayment Programs:
Public Service Loan Forgiveness (PSLF): Students who borrow Direct Loans (subsidized or unsubsidized) may have their student loan balance forgiven after making 120 consecutive monthly loan payments while serving a qualifying nonprofit organization. This is a great option for medical students interested in working with patients in a nonprofit setting.
NHSC Students 2 Service Loan Repayment Program: NHSC (National Health Service Corps) entitles students to earn up to $120,000 towards their monthly payments, plus a monthly stipend for expenses during medical school. This loan repayment is in exchange for 3 years full-time, or 6 years of half-time, commitment to work in an HSPA (health professional shortage area) after completing residency.
The Indian Health Service (IHS) Repayment Program: IHS entitles students to earn up to $25,000 per year towards their student loans in exchange for full-time clinical service at an Indian health facility with staffing needs.
State-Funded Repayment Plans: Some states offer their own loan repayment terms in exchange for service in high need areas.
Employer Repayment Plans: Some private employers offer their own loan repayment terms in addition to relocation packages in exchange for employment.
What if I can't pay back my student loans? If you are having difficulty repaying your federal loans, entering forbearance will temporarily suspend or reduce your payments, while deferment will postpone your payments for a certain period of time.
Short-term forbearance is easier to qualify for, but interest will still accrue while you're not making payments. For a long-term financial need, deferment is a better option — there's more paperwork involved, but no interest will accrue and you may defer payments for up to 3 years total.
If you're struggling to pay private loans, speak to your financial institution about repayment options. These are generally less flexible options than those offered for federal student loans.
Questions Pre-Meds Should Ask Financial Aid Officers
As you consider specific medical schools, talk to the school's financial aid officer or reading the school's financial aid web pages for information such as:
The medical school's average cost for four years, including tuition, fees, room and board.
The average debt load for the most recent graduating class.
How to apply for financial aid and if parental information is needed to determine it.
The availability of scholarships and grants and how to apply for them.
The availability of institutional loans as well as the terms and conditions.
The ability to work part-time during medical school.
Also, consider consulting with Physicians Thrive, a trusted partner of Prospective Doctor. This advisory group focuses on helping medical professionals manage student loans, contracts, and future financial planning.
How Much Does It Cost to Apply to Medical School?
Including all exams, medical school application fees, and interview travel, it costs the typical student $4,881 to apply to med school. Some financial aid is available during this process, but it costs far more — nearly $240,000 over the course of your career — to not get in the first time.
The AMCAS processing fee for the primary application is $175, plus $45 for each additional school designation. Each school then has a secondary application fee which ranges from $30-$200, plus the cost of the flight and accommodations for attending interviews.
Need financial aid to apply to med school? The AAMC and the AACOM both offer fee waiver programs for students with financial need.
The Association of American Medical Colleges (AAMC) Program: Approved applicants will be provided funds for application fees, along with a reduction in the MCAT registration fee, and a subscription to the Medical School Admission Requirements (MSAR) online database.
The AACOMAS Fee Waiver Program: Approved applicants will be provided funds to cover the primary application fee, along with access to AACOM's Big Interview Platform, which assists with interview prep.

Trying to Get Into Med School?
Applying for medical school can seem overwhelming, but there are many resources available to help you turn your dream of working in healthcare as a doctor into a fulfilling and lucrative reality.
How much do most doctors make in salary per year? In 2021, primary care physicians earned approximately $255,000 annually, while specialists earned $344,000.
Medical school is a significant financial investment, but it pays off over time when you put in the work!
Our Physician Advisors can walk you through the medical school admissions and application process for your best shot at getting into the school of your choice.
FAQ
How do I receive financial aid for med school?
To receive financial aid for med school, you'll need to fill out the Free Application for Federal Student Aid (FAFSA) form.
What does FAFSA qualify me for?
The results of your FAFSA application could qualify you for free-tuition work service programs, scholarships and grants, and access to loans such as the Federal Direct Unsubsidized Loans (also known as Stafford loans).
When can I apply for financial aid?
While students can apply for financial aid anytime during the year, the best funding is available to applicants who file between Jan 1st and March 2nd.
What are the best scholarships for underrepresented in medicine (URM) students?
The best scholarships for Underrepresented in Medicine (URM):
What are the best medical school student loans?
Federal Direct Subsidized Loans are considered the best loans for medical school students. They do not require a credit check or co-signer, and they do not charge interest while the student is enrolled at least half-time. Plus, interest rates on federal direct subsidized loans are generally lower than other federal and private student loans.
How do I pay for medical school without a cosigner?
To pay for medical school without a cosigner, take full advantage of:
Free-tuition work study programs and schools
Scholarships and grants
Federal student loans
How can I serve the military and go to medical school?
There are three ways to serve in the military and go to medical school:
Health Professions Scholarship Program: The NHSC covers full tuition and expenses, plus a stipend, for medical students intending to serve in the U.S. Armed forces under the Army, Air Force, or Navy. Medical students must fulfill a 3-year commitment as an active duty officer or 1 year of service for each year of tuition covered.
Uniformed Services University of Health Sciences (USU): This Department of Defense Institution, known as "America's Medical School", considers its students "active duty" and provides full tuition, salary, housing allowance, and benefits. Admission to the school requires students to commit to a minimum of 7 years of military service.
Part-Time Military Medical Service: Serving as a Guard or Reserve commissioned officer can help cover some of your tuition and other expenses for medical school without requiring active duty service.