Do you want to become a doctor? Explore medical specialties, understand the training required for each, and see what salary you can expect to work as a practicing physician in various fields.
I would caution any pre-meds against making a life decision based on money alone. But before your career gets started, it's good to know what salary you're getting yourself into to set healthy expectations. There are several different ways to think about exploring a medical specialty, including the competitiveness of the specialty, length, and type of residency training, the work setting, and work-life balance. And of course, how much money are you going you make as a doctor?
Doctor Salaries from the 2020 Physician Compensation Report
Per the Physician Compensation Report 2020 published by Medscape:
"Amid the COVID-19 pandemic, physicians have been struggling through intense challenges caring for patients while trying to protect their own and their families' health and well being. A doctor's most critical concerns are those involving life and death. Still, while confronting this crisis, salary and income and important to one's career and livelihood. What impact has COVID-19 had on physician income?
Practices report a 55% decrease in revenue and a 60% decrease in patient volume on average since the beginning of the COVID-19 crisis.
Hospitals and physician groups nationwide have implemented layoffs, furloughs, and pay cuts.
43,000 healthcare workers were laid off in March 2020.
9% of independent medical practices report that they have closed their practices, at least temporarily."
Overall, physician income has continued to rise. Primary care physicians (PCPs) earned an average of $237,000 last year vs. $243,000 this year – a 2.5% increase. Specialists earned an average of $341,000 last year vs. $346,000 this year – a 1.5% increase.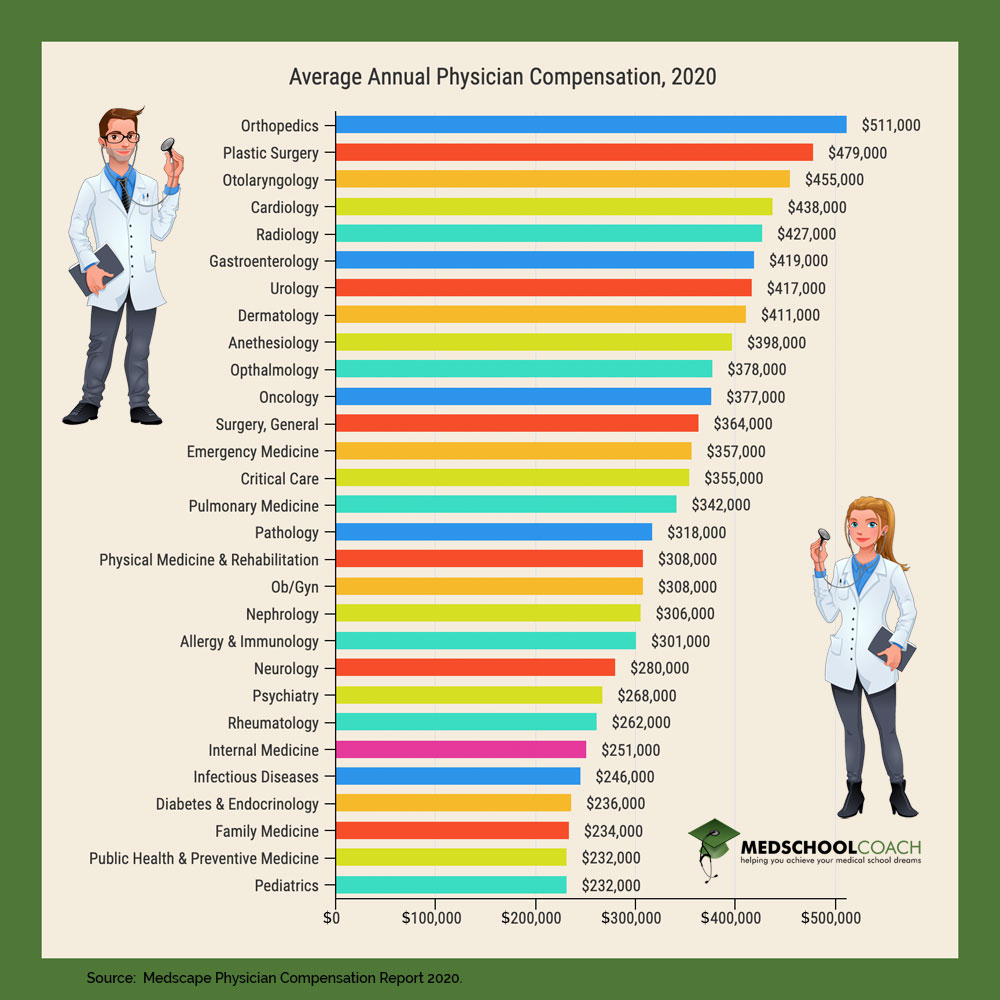 Sometimes money in medicine can be taboo or something people don't want to talk about. But it is still something to be considered. Nobody really should go into medicine to make money, but you need to consider salary when you're choosing your career.
Among specialists, men earned 31.1% more than women ($375,000 vs. $286,000) illustrating that even in the field of medicine, the gender pay gap is real.
The average physician specialist spent 38 hours a week seeing patients. That is crucial, because 27% of physicians said their relationship with their patients was the most important part of their job – the most important factor overall!
Note that plastic surgeons are near the top at about $500k a year. And then the public health and preventative medicine folks are at the bottom making closer to $200k a year. Two hundred thousand dollars a year is nothing to sneeze at, especially if you're a medical student in debt or if you're a resident making $50k a year. This is just something to keep in mind in terms of what kind of lifestyle you're going to be pursuing.
Also, just because you're going into plastics doesn't mean you're going to make five hundred thousand. And just because you're going into pediatrics doesn't mean you're to make two hundred thousand. So there is a large fluctuation in the actual compensation numbers. But it's at least good to consider how much money or at least know how much money you might be making in each specialty.
Factors to Consider When Choosing a Career as a Doctor
Money isn't everything. While salary is an important factor, so are other considerations as you make your medical journey toward becoming a physician. For instance: work-Life balance.
Some people argue work-life balance doesn't exist in medicine. This is not accurate. In addition to being a doctor, you can still juggle things you're interested in doing, such as your hobbies and activities, the people you spend time with, and seeing your friends and your family.
Here are key aspects you'll want to consider when selecting a specialty that will impact your work-life balance from the time your career is just starting as an intern, all the way into your life as an attending.
Medical Training Requirements
What are the implications of the length and type of training time? Some residencies such as pediatrics require a three-year residency. Other specialties such as neurosurgery require a seven-year training program. Most doctors in training feel that residency is not a pleasant time. You're going to be working long hours and long days. It's challenging. And you will be committing many of your prime years to it. Would you rather go through the trials and tribulations of residency, or move on to the attending life? This can impact the specialty you choose.
Competitiveness of Medical Specialties
Fill ratios are used to determine the number of applicants per position available. The closer that ratio is to 1, the closer there is to 1 spot for every applicant. The farther you deviate upwards from that number, the harder it is to land a spot.
For example, take interventional radiology. There are 1.86 applicants for every 1 position available, and only 136 openings available per year. In contrast, take anesthesiology with 1.09 applicants for each position available, and 1,804 openings per year.
Your Patience for Patients
Most physicians practice some form of clinical medicine. A lot of that time is spent seeing the patients, charting on the patients, and the mental efforts going into thinking about your patients. Just because you leave work doesn't mean you won't be thinking about what you did during the day.
Plus, being "on-call" is a real consideration when making a commitment to it for life. Something like dermatology is largely outpatient-based without a lot of on-call involved. It is often considered a lifestyle specialty. While specialties like general surgery may be tied to the hospital and don't offer much of a life outside of that, being on call, being in the hospital, doing rounds, and seeing patients in an outpatient patient scenario, too. Do you want to wear a pager all the time, or not?
The Job Site
In addition to considerations based on where in the world you want to live, think about what kind of practice environment you'd like to be in. Would you rather work in a nice cozy office in a rural clinic, or a busy hospital in a major medical center? Or would you rather practice in a high stress operating room or a quiet exam room?
Academic Interest
How strong are your academic pursuits in research? This will impact the number of publications, presentations, conferences, and research you do throughout your career.
Keep Your Finances in Check
Many applicants have undergraduate debt and medical school debt. Plus, they're deferring that debt while they're still studying. As as you go on to residency, you could make earn between $40k to $70k. That residency time is a lot of years to be earning a relatively small amount of money for a physician, while simultaneously having so much debt to pay back. Plus, the longer you're in your residency, the less chance you have to pay back your loans.
How Much Does a Doctor Earn in a Career vs. an Electrician
Just for fun, we built out a chart that shows how much doctors earn over their career versus a respectable "traditional" blue-collar job – say, an electrician. The break-even on net income between the two jobs is 26 years! Yet, a doctor can expect to make $12 million more in their career. Can you wait that long?
Note: This chart assumes that a pre-med will have spent $75k+ per year for 4 years of undergrad school, $50k a year for 2 years of post bacc, $75k+ a year for 4 years of medical school, and then earned $50k+ for a gap year, and somewhere south of $100k per year for up to 7 years as a resident. Only then do individuals start earning like an attending, and even then, they begin at a lower-than-average salary. Inflation and annual wage increases are incorporated into these metrics.
After all these considerations, 77% of physicians stated that if they had to choose a career from the start, they would choose medicine again.
Keep in mind, just because you're a general surgeon doesn't mean you won't enjoy life outside of the OR. And just because you're a dermatologist doesn't mean you're making tons of money and kicking back and relaxing all the time. There's a lot to consider. But we wish you the best of luck on your medical journey. Happy earning. And we hope you help lots of patients on their road to recovery!
How Much Does A Physician Make?
| What is the Salary of a Doctor? | Specialty | Average Annual Physician Compensation |
| --- | --- | --- |
| How much does an orthopedist make? | Orthopedics | $511,000 |
| How much does a plastic surgeon make? | Plastic Surgery | $479,000 |
| How much does an otolaryngologist make? | Otolaryngology | $455,000 |
| How much does a cardiologist make? | Cardiology | $438,000 |
| How much does a radiologist make? | Radiology | $427,000 |
| How much does a gastroenterologist make? | Gastroenterology | $419,000 |
| How much does a urologist make? | Urology | $417,000 |
| How much does a dermatologist make? | Dermatology | $411,000 |
| How much does an anesthesiologist make? | Anesthesiology | $398,000 |
| How much does an opthalmologist make? | Ophthalmology | $378,000 |
| How much does an oncologist make? | Oncology | $377,000 |
| How much does a general surgeon make? | Surgery, General | $364,000 |
| How much does an emergency medicine physician make? | Emergency Medicine | $357,000 |
| How much does a critical care physician make? | Critical Care | $355,000 |
| How much does a pulmonary medicine physician make? | Pulmonary Medicine | $342,000 |
| How much does a pathologist make? | Pathology | $318,000 |
| How much does a physical medicine & rehabilitation physician make? | Physical Medicine & Rehabilitation | $308,000 |
| How much does an OB-GYN make? | Ob/Gyn | $308,000 |
| How much does a nephrologist make? | Nephrology | $306,000 |
| How much does a allergist and immunologist make? | Allergy & Immunology | $301,000 |
| How much does a neurologist make? | Neurology | $280,000 |
| How much does a psychiatrist make? | Psychiatry | $268,000 |
| How much does a rheumatologist make? | Rheumatology | $262,000 |
| How much does a internal medicine physician make? | Internal Medicine | $251,000 |
| How much does a infectious disease physician make? | Infectious Diseases | $246,000 |
| How much does a diabetes and endocrinologist make? | Diabetes & Endocrinology | $236,000 |
| How much does a family medicine physician make? | Family Medicine | $234,000 |
| How much does a public health & preventive medicine physician make? | Public Health & Preventive Medicine | $232,000 |
| How much does a pediatrician make? | Pediatrics | $232,000 |
Looking for residency advising help? Discover how MedSchoolCoach physician advisors can help you transform your match prospects into a career in medicine.