MedSchoolCoach and renowned MCAT podcaster, Sam Smith have launched an all-new MCAT audio learning experience called MCAT Go. The subscription-based MCAT study resource is now available and students can sign up and try it for free here: https://mcat-go.medschoolcoach.com/.
Here's everything you need to know about MCAT Go. 
What is MCAT Go?
MCAT Go is an audio-based MCAT course. There are no visuals, videos, or reading, so it is a truly audio-based learning strategy that students can use in conjunction with their other MCAT study materials and methods. Because it is a strictly audio-only format, students can listen and study from anywhere, anytime — while commuting, exercising, or during any other activity! 
MCAT Go claims it's a comprehensive MCAT science course covering over 400 science topics based on the AAMC curriculum. At first glance, this seems true. They have hours' worth of content voiced by Sam Smith, who is also the host of the MCAT Basics podcast, which has thousands of great reviews.
What Other Audio Courses Exist?
Not many really. Students who study for the MCAT are often limited to studying in front of their computers. What's really interesting about MCAT Go is that it's meant for students who are "on the go;" it's a really passive learning experience that works great if you are out for a run or at the gym. The only other credible audio course was Examkrackers MCAT Audio Osmosis, which is great, but this course is now 20 years old and can mostly be found ripped online. There is also an MCAT audio course from Audiolearn, but I haven't heard great things about it.
How is MCAT Go Like Other Study Resources?
MCAT Go is a one-of-a-kind audio course that hasn't been reimagined since a popular set of MCAT prep CDs came out in the 90s. It's meant to supplement your other MCAT study strategies and allows you to maximize every minute of study time as you can listen anytime — even when you're not able to be staring at a screen or book.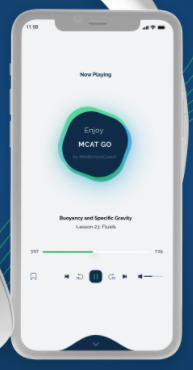 Is MCAT Go an App?
MCAT Go is not currently available as a standalone app. If you're accessing MCAT Go on a mobile phone, you will do so via the browser. MCAT Go provides the value of an MCAT prep audio app while being easily available anytime, anywhere, on any device with a browser.
How Do I Listen to MCAT Go?
MCAT Go is built as a convenient web app. It looks like a media player and is organized by lessons, quizzes, playlists, and bookmarked chapters. A dashboard tracks your progress and lets you easily search and sort lessons by topic. You can listen to MCAT Go lessons from any device – mobile, laptop, or tablet.
MCAT Go Curriculum & Coursework Analysis
MedSchoolCoach prides itself on really high quality content and MCAT Go doesn't disappoint there. In listening, the chapters and lessons closely follow high-yield AAMC content and are very accurate. There are quizzes that reinforce your learning from each section, although I've noticed that the quizzes are pretty easy. Don't expect full-length or very in depth questions here.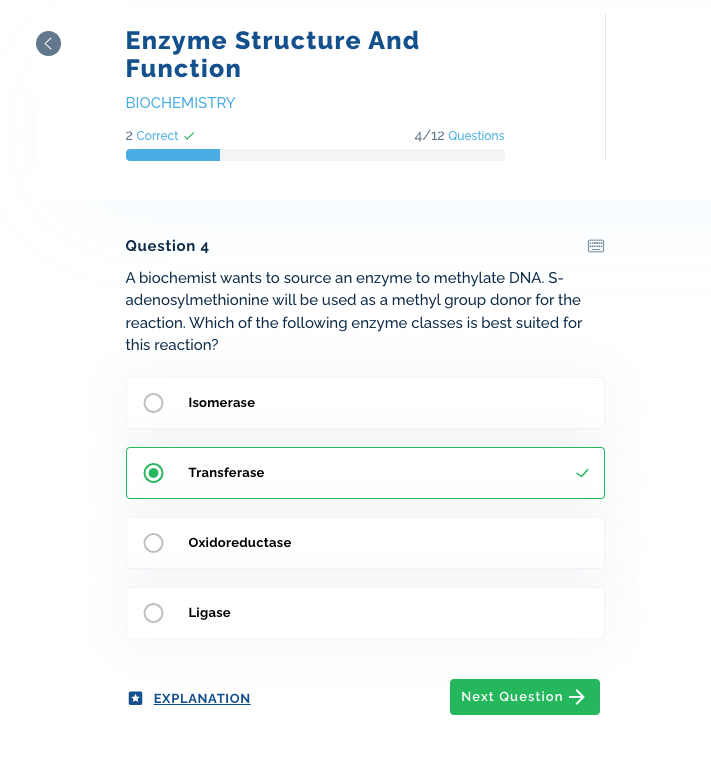 In total, there are 450 science "chapters" and 70+ "lessons". The lessons are topics such as "Translational Motion" whereas the chapters are subtopics, such as "Friction" or "Projectile Motion".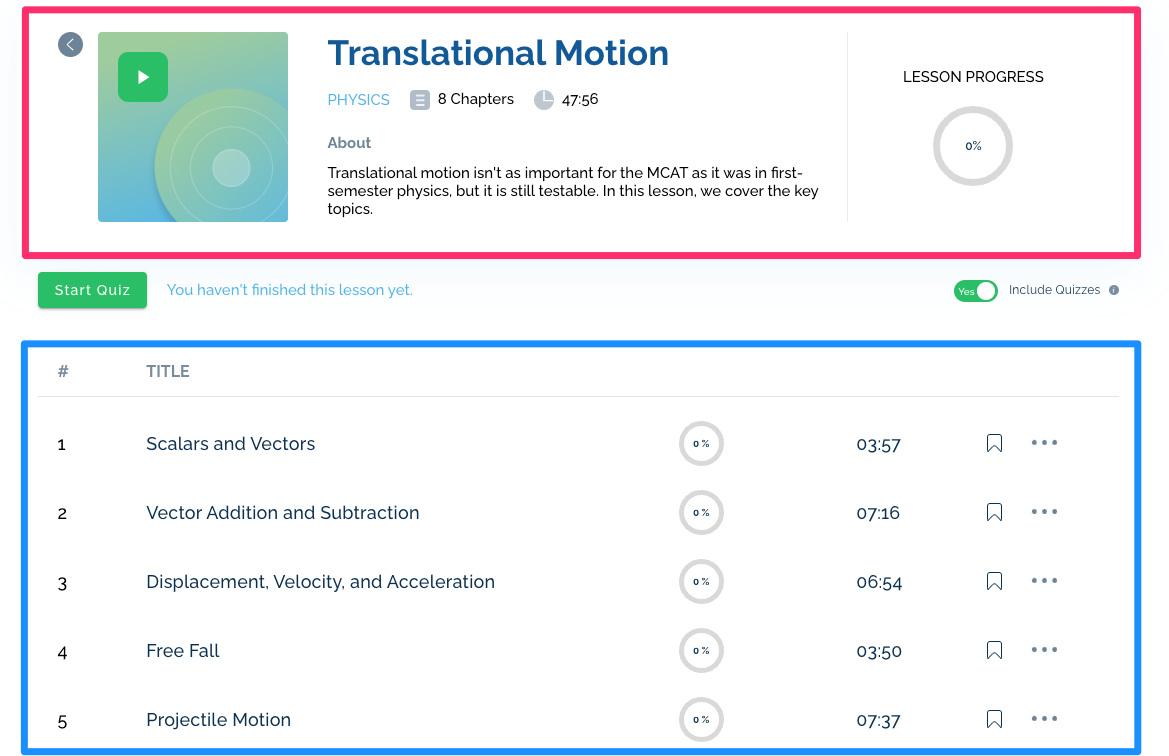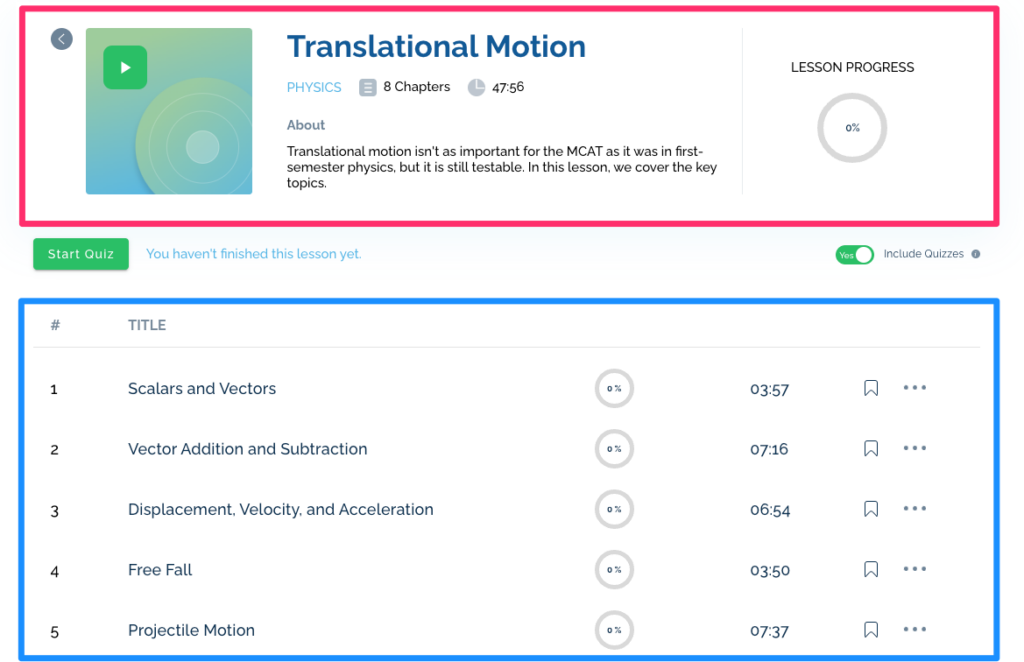 Can I Download Lessons and Listen Offline?
Lessons are not downloadable due to piracy/sharing concerns. However, MCAT Go is optimized for mobile in-browser use as well as desktop use, so it can be accessed anywhere you have an internet connection.
Do I Have to Listen to Lessons in a Certain Order?
Our content team has carefully structured MCAT Go to ensure that you cover all of the main topics on the AAMC outline – at the right time. However, MCAT Go allows you to easily construct playlists of chapters that you want to review, from high-yield content areas to the concepts that you struggled with on your last practice test. MCAT Go also includes access to exclusive playlists designed by MedSchoolCoach's top content experts.
How Long is the MCAT Go Course?
MCAT Go includes 75 lessons broken up into 450 chapters. There is a 10-15 question quiz at the end of every lesson. The total runtime of all MCAT Go lessons is 35 hours, which does not include the time it takes for quizzes or re-listening to any content. There are a total of 1,054 questions to help test your mastery of the lessons.
Who is the Host of MCAT Go?
MCAT Go was created by renowned MCAT podcaster, Sam Smith. After taking his own MCAT, Smith realized he would have been more effective at studying if he hadn't been tied to a screen all of the time. The MCAT Go course gives students another learning strategy and allows them to maximize every minute of study time. 
Smith is also the host of the popular podcast, MCAT Basics, which has more than one million downloads and thousands of subscribers with 5.0 stars (400+ reviews) on Apple Podcasts. In both the podcast and audio course, Smith presents MCAT science concepts concisely, but with a light and sometimes fun spin (including sound effects).
Prior to joining MedSchoolCoach, Sam independently founded Sam Smith's MCAT Basics Podcast. Since Sam joined the company, his podcast series has received over half a million downloads. He has also produced 4 other podcasts for MedSchoolCoach, helping book guests, write show notes, and create blogs. Sam also served as the co-host of Virtual Clinical Education, the 20+ episode shadowing experience which has led to more than 10,000 students shadowing real physicians for about 21,000 hours. Sam is now a medical student at George Washington University.
How is MCAT Go Different From the Free MCAT Basics Podcast?
Long-time listeners of the MCAT Basics podcast will appreciate that there is no repeat content in the MCAT Go course. 
MCAT Go is a comprehensive science product with a course architecture, designed by our experts to ensure that students move through all of the material in a logical order. The podcast lacks such an order and therefore isn't likely to be relied upon as a main content source. MCAT Go also contains quizzes for every lesson, whereas the podcast is audio-only and does not have a way for students to gauge retention of the content.
What MCAT Topics Does MCAT Go Cover?
Smith covers all seven of the science subjects tested on the MCAT: biology, biochemistry, physics, general chemistry, organic chemistry, psychology, and sociology. The course covers the full range of MCAT science content at a varying level of depth reflecting Smith's judgment regarding what is worth emphasizing and what best fits the audio modality.
Can I Listen to Lessons More Than Once?
You can listen to lessons as many times as you want while you are subscribed to MCAT Go! Because of the audio format, you can pause, rewind, fast forward and skip around other lessons as needed. If you need to spend more time on a certain concept, you can bookmark the chapter and easily come back to it later. 
Do I Have to Take the Quizzes Right at the End of Each Lesson?
You can take the quizzes at any time. If you're driving or otherwise engaged, you can skip the quiz and come back to it later. There is also a toggle setting (labeled "Include Quizzes") on the Lessons page of the course. Toggling this off will play the next lesson immediately after the prior one is completed, without prompting the quiz in between so that your listening experience is not interrupted.
Are MCAT Go Lessons Interesting to Listen To?
If you're not familiar with host Sam Smith, we highly encourage you to check out a few episodes of the MCAT Basics podcast. Unlike some MCAT courses that can be dry to listen to, Smith has a knack for delivering vivid, concise, and memorable material in a friendly way that informs, engages, and even entertains listeners! 
When Is the Best Time to Add MCAT Go to My Study Prep?
MCAT Go is ideal for students in the content review stage of their prep, typically the first ~50%-60% of a study plan. If you are more focused on later-stage skills (strategy, pacing, CARS), MCAT Go is less ideal as it is a science-only course.
How Much Does MCAT Go Cost?
MCAT Go is a subscription-based service that costs $99 for one month or $199 for three months. Your subscription will automatically renew so you can use the audio course for as long as you'd like. 
Active MedSchoolCoach MCAT tutoring students will automatically receive 6 months of MCAT Go. 
Can I Try MCAT Go for Free?
There is a free version of MCAT Go that you can try before subscribing. The free account includes seven full lessons, one from each science subject. The user can listen to the lesson and take the quiz for any of these seven.
The free lessons are:
Immune System [Biology]
Fatty Acid Metabolism [Biochemistry]
Solubility [General Chemistry]
Functional Groups [Organic Chemistry]
Sound [Physics]
Classic Experiments [Psychology]
Groups [Sociology]
Overall Thoughts on MCAT Go: A Review
MCAT Go doesn't try to be too much and that feels right. It is absolutely not all you need for MCAT studying. You'll definitely need MCAT Practice Tests as well as some form of MCAT Videos in order to score well on the MCAT. You probably also will want to add a Question Bank. But, as an audio course, it's really the best out there without any question. It's super helpful for studying any time. Compared to a $2000+ course it's definitely not as good for getting everything you need, but it's well worth it as I can't watch videos while I am out for a run.
Course "Fun": A
Course "Flexibility": A-
Course "Value": B+
Course "Content": A-
Course "Comprehensiveness": C+ (you absolutely need to add more to this. It can only be used as a supplement with your other studying).
Overall Recommendation: HIGH! I would get it.