The Best MCAT Mobile Applications Reviewed
MCAT apps for mobile devices are more popular than ever. While the coronavirus pandemic has caused upheaval in so many aspects of students' lives, perhaps the biggest is the shift away from a traditional classroom and towards learning on your own. In the past, many students have turned to classroom-based MCAT courses from traditional players like Kaplan and Princeton Review. But, what if you want to study on your own, or on the go with your mobile phone? There are several great tools you can utilize. We've reviewed them here to help you get started.
Best MCAT Mobile Apps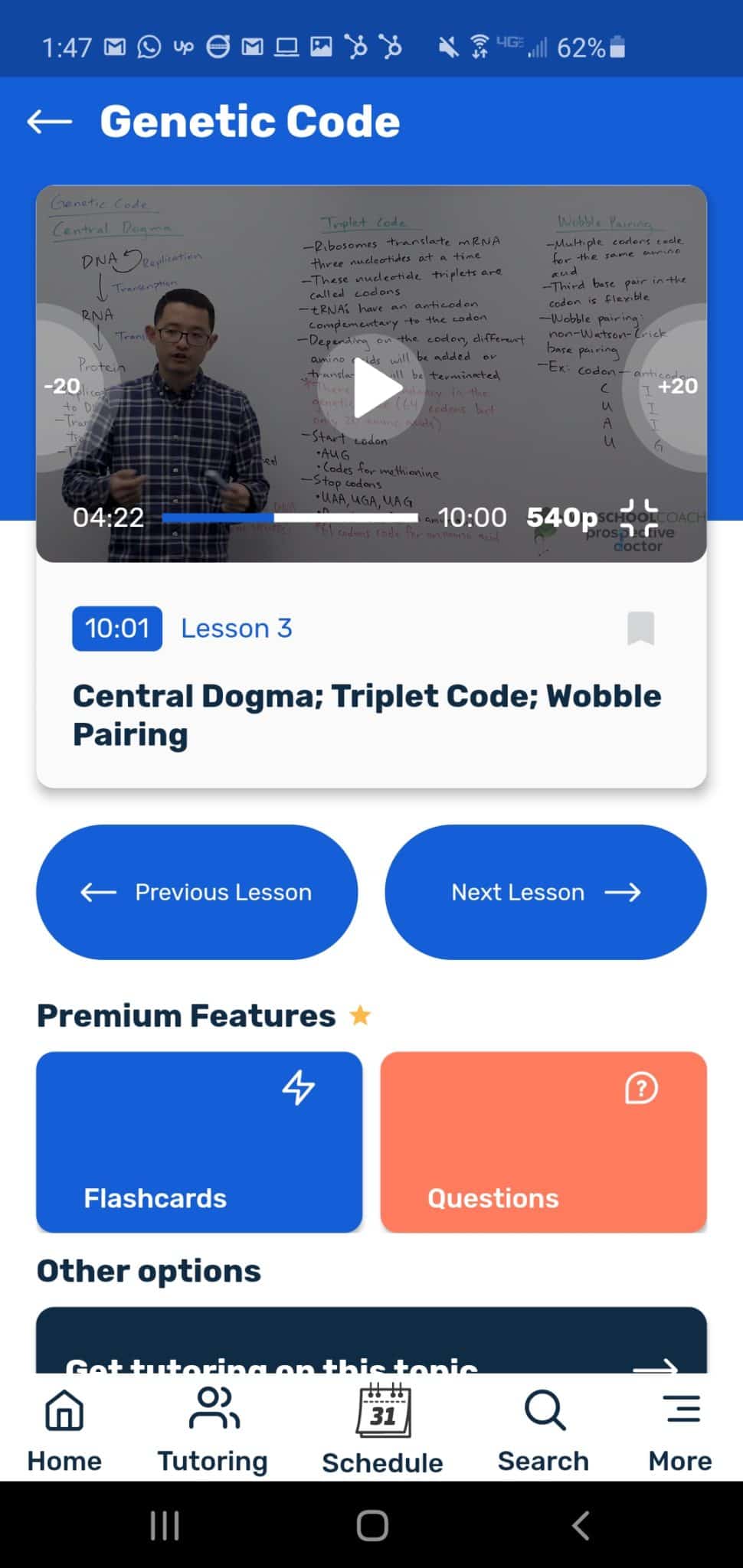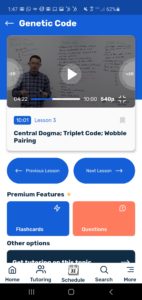 The first app is the newest on the block and available for both Apple iOS and Android Play Store. With over 250 MCAT videos, this app was made with the MCAT in mind first unlike many other video-based programs (such as the great Khan Academy, which is a fantastic resource but not specifically focused on the MCAT). In addition to the videos, which are all free, there is a study scheduler to help students stay on track for their upcoming MCAT exam. There's also a question bank mimicking AAMC questions and flashcards for every video to assure comprehension of the topics. According to the app developers, there are additional features like whiteboard screenshots and lecture notes soon. As a free app, it's a no brainer to get this for MCAT studying and combines elements of Khan Academy, Anki and UWorld into one app.
2. MCAT Prep by Magoosh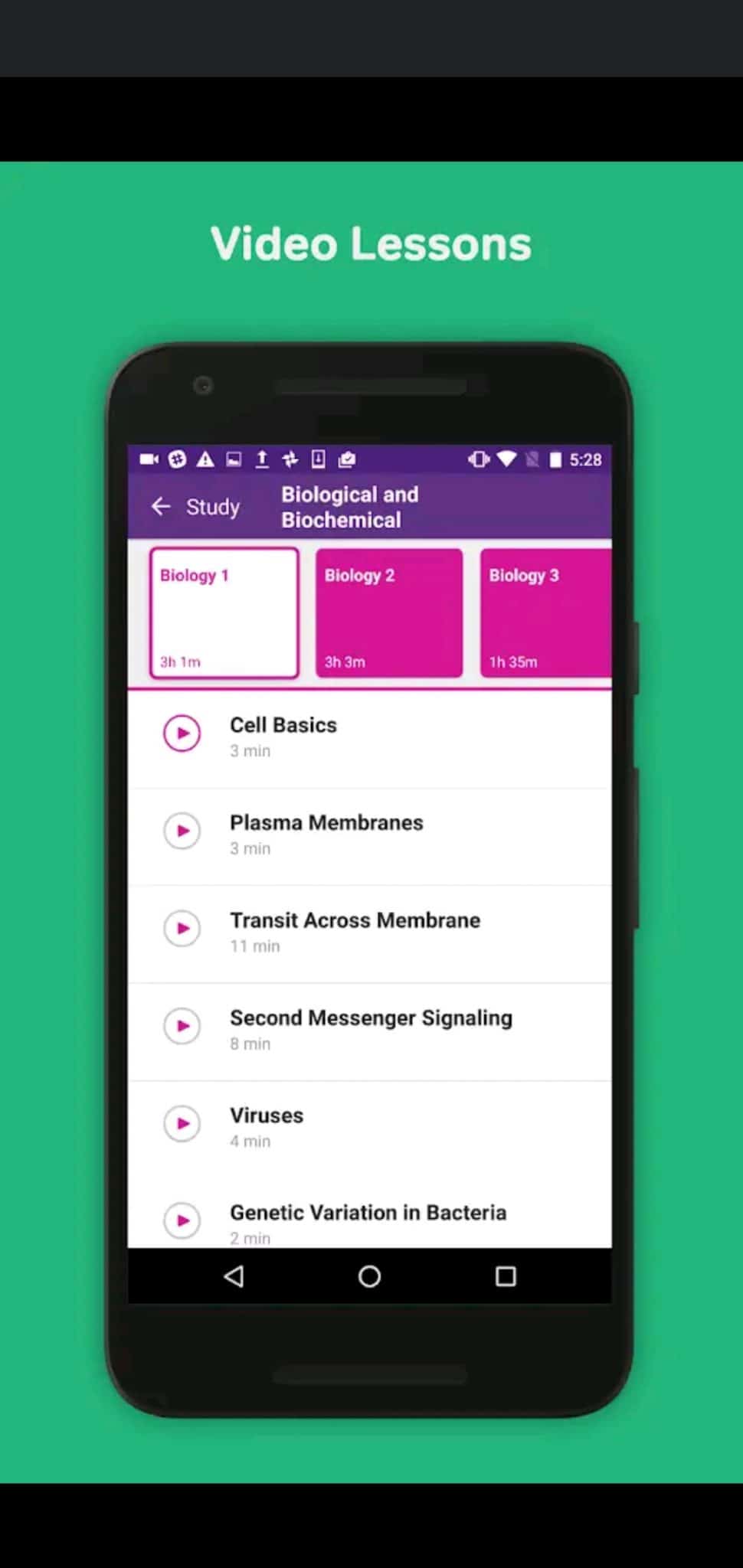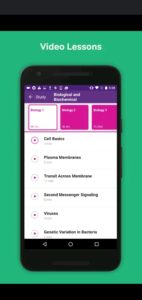 Magoosh is known as a low priced alternative to many of the expensive prep classes. At $199 for a 12 month subscription, the prep course is a relative bargain. The app is available on both Apple iOS and Android. The trial version of the app contains 40 video lessons, but additional lessons can be unlocked by subscribing. The app also contains links to helpful articles for pre-meds. Student's enjoy the app, with one review saying "I have no doubt that the video explanations were instrumental in helping me get my target score."
3. Ready4 MCAT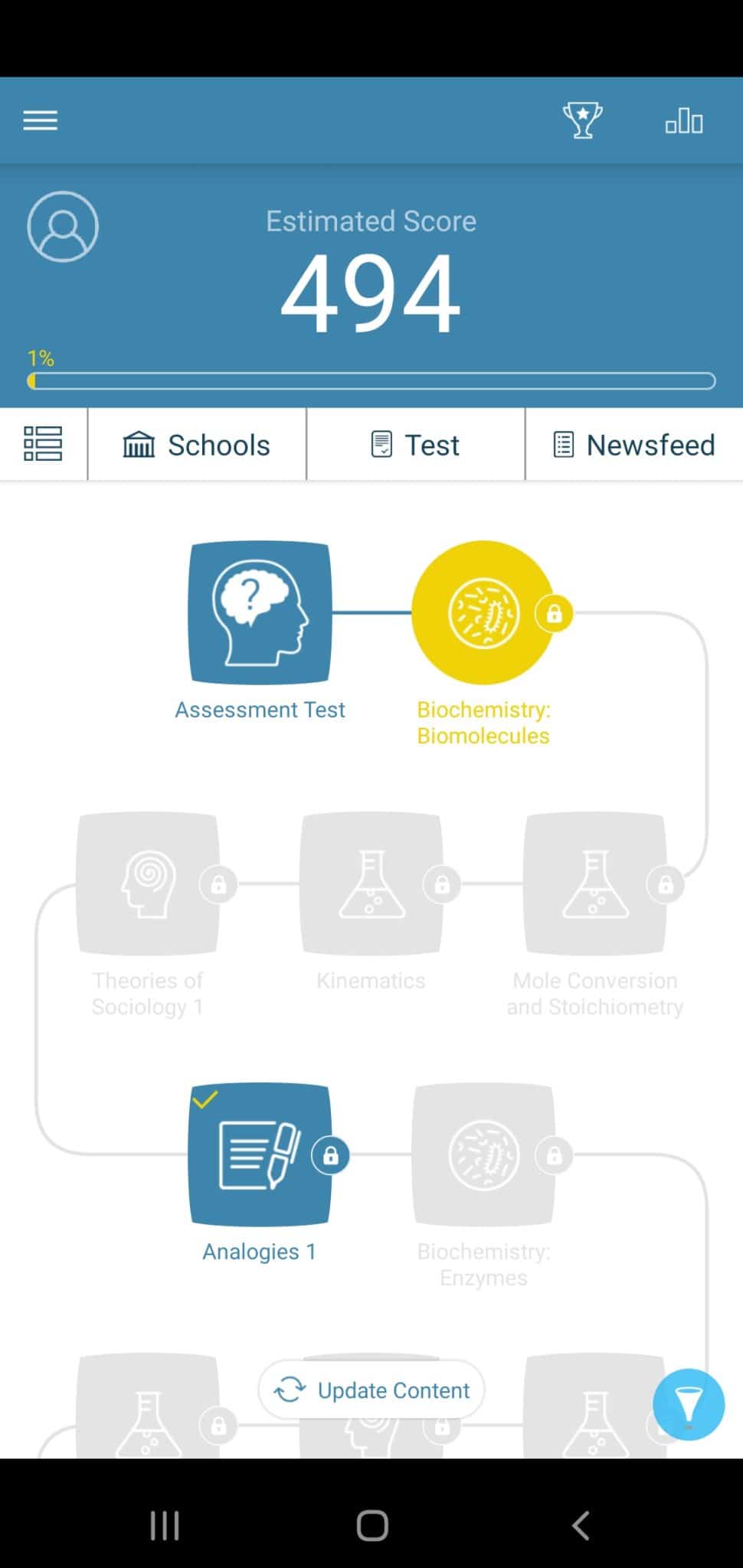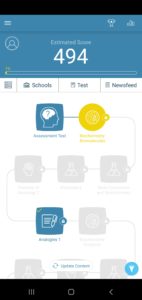 This app is part of a series of Ready4 apps available on Android and iOS. It uses a slick interface to help students get through various aspects of studying with a predictive score tool which is very helpful to see your progress. The questions all come from the Princeton Review and are generally okay quality to test your knowledge. According to the developers, With a course designed by current med school students and content and questions provided by The Princeton Review, Ready4MCAT covers everything the AAMC could test you on. You can also use Ready4MCAT's daily study reminder and the question of the day to create a daily study habit.
4. MCAT Prep: MCAT Flashcards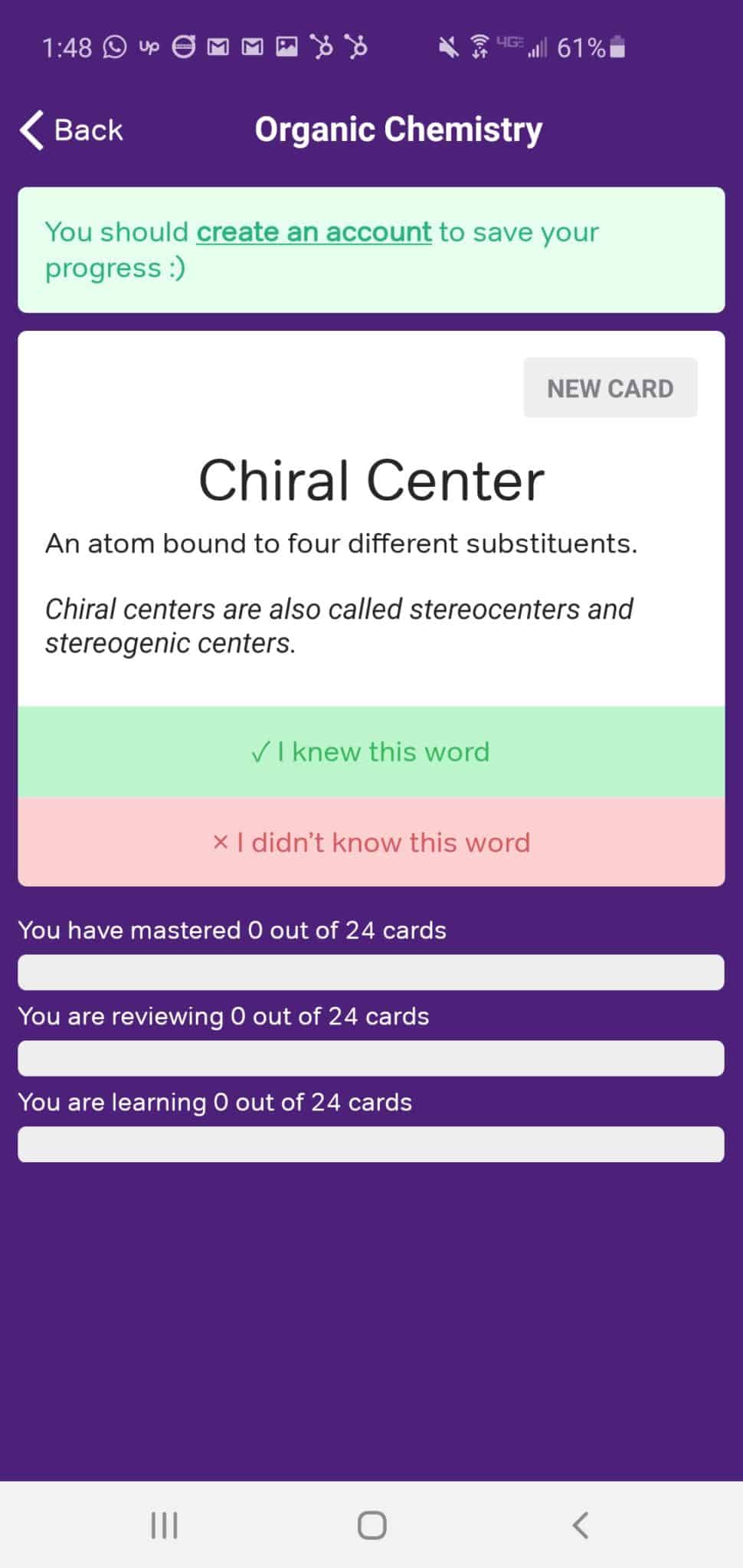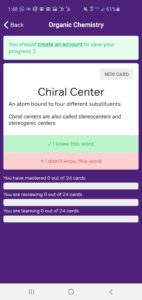 The Magoosh MCAT Flashcard app is available on both iOS and Android. The app is free, so along with MCAT Prep by MedSchoolCoach, it's one of the must have apps on your phone while you are studying for the MCAT (hey, why wouldn't you get a free app that helps you raise your score and slay those AAMC questions?). This MCAT practice app includes MCAT flashcards that follow an algorithm based on the Spaced Repetition Technique. The Spaced Repetition Technique comes from academic research, which shows that memories are formed by repeated exposure to new information at different intervals. When you practice with these MCAT flashcards, you'll notice that flashcards are tagged as "mastered", "reviewing" or "learning". Cards that you are "learning" will appear most frequently, until you master them, and then they will appear less frequently so that you can continue to review the MCAT flashcards and keep them fresh in your mind until test day.
5. MCAT Prep: Practice Tests and Flashcards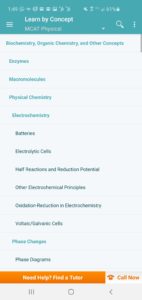 This mobile app is made by Varsity Tutors and is available on the iPhone and Android. It has an easy to use interface and practice questions that can help students trying to get additional questions for their MCAT prep beyond the AAMC practice material. You can take both a diagnostic test and practice tests on the application as well as go through the high yield flashcards to improve your memorization of important MCAT topics. As another free app, it's reasonable to add this to your repertoire. It also has lessons which you can access to help you continue to learn on the go.
6. UWorld MCAT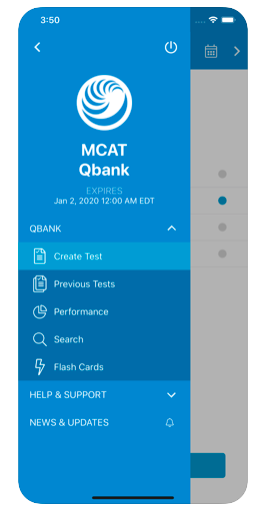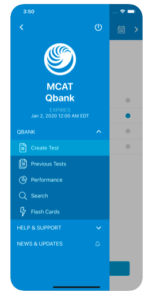 UWorld was known for years as USMLE World – they were the foremost player for question banks, producing accurate tests that reflected the USMLE. In the last year, they've entered the MCAT market with a bang. Their realistic AAMC style questions are praised by students. Available for iOS, the UWorld MCAT program includes 1900+ questions. You'll need an active UWorld (called UEarth on some forums around the internet in case you were browsing) subscription in order to access the application. You have the ability to customize tests and detailed explanations for the questions.
Studying on the go is an absolutely great way to get your MCAT studying in. Whether you are on the train, bus, an Uber or a Lyft, taking out your phone for a quick study session is an awesome way to continue to boost your MCAT score and chances at medical school admissions. Most of the apps above also work on an iPad or other tablet, so they can work as you are studying from the library or at home really well too.