Preparing for USMLE Step 1 can be overwhelming. It is crucial to select the right resources and stick to a well thought out study schedule when preparing for your exam. In this webinar presented by Dr. Joel Ramirez, you will learn to:
Select resources and leverage them.
Create a study plan and execute it.
Utilize tutoring to improve your score.
Presented by: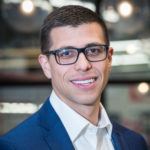 Dr. Ramirez attended University of California, San Francisco where he is a vascular surgery resident. He received a 266 on Step 1 and 265 on Step 2 CK. He oversees the team of elite USMLE and COMLEX tutors.
View the Webinar