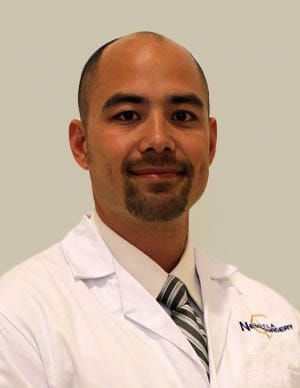 In this edition of 10 Questions for a Doctor, Daniel Nagasawa MD, a neurosurgery resident at UCLA, shares on his journey into a career in neurosurgery.
Daniel T. Nagasawa was born and raised in Los Angeles, went to undergraduate school at the University of California, Berkeley, then medical school at the University of California, Irvine. In 2012, he began his residency in Neurological Surgery at the University of California, Los Angeles. While in medical school, he met his wife, Krystle Nagasawa, who is finishing her residency at Kaiser Sunset in Obstetrics and Gynecology.
1. When did you decide you wanted to become a doctor? What were your main reasons for going into medicine?
Speaking with my mother, I apparently always wanted to be a physician; she says that even in elementary school, I talked about becoming a brain surgeon. However, while I entered into college with the anticipation of pursuing medicine, I spent my initial time as an undergraduate diversifying my education in order to convince myself that there was no other profession I could be even remotely as passionate about. As a psychology major, I further developed my fascination with the interactions between the brain, the mind, and the body; particularly, in regards to how traumas and malformations could affect the interaction between the three. I spent years volunteering in a dual diagnostic facility (psychiatric disorders coupled with substance abuse), but it wasn't until after a medical mission trip I took after graduating from UC Berkeley that I solidified my decision to enter into the lifelong journey of medicine.
During this trip, I traveled from Los Angeles to Houston where I assisted in medical triage after the devastation of Hurricane Katrina, then worked with the Red Cross in Belize on national HIV awareness/prevention projects, and provided medical care for the underprivileged in Honduras; but it was in Guatemala that my life changed. I was working on a project to bring potable water to a remote village approximately 5 hours by bus from the nearest major city. The village consisted of 500 Q'eqchi' Native Americans living in thatched huts, drinking water from the same polluted river they washed clothes and excreted waste in. I was there for only a short while to survey the area, but when I left, the chief shook my hand, looked me in the eyes, and stated one word: "Bantiox," meaning "Thank you." For a community abandoned by their country and stricken with preventable waterborne illness, my presence alone meant hope for those who had lived for decades without any. To be able to assist this village and improve the lives of its people was a blessing for me, and I knew at that moment with the chief, I wanted to spend the rest of my life doing the same for others.
2. How/why did you choose the medical school you attended?
I applied to programs all over the country in order to see first-hand the unique characteristics each medical school had to offer. By doing so, I was able to witness various strengths and weaknesses, often identifying new aspects of a program I did not even realize I valued. I chose UC Irvine for several reasons: While its location in close proximity to the beach was definitely a plus, it was also close to my friends and family. I truly believe that having a strong support network nearby can make all the difference during these difficult and stressful years. Irvine also prides itself not just on its dedication towards medical education, but also on the diversity and unique qualities of its students. They advocate for a student body, which will bring more to their campus than a high GPA and perfect MCAT score. They want individuals who will be active in the community founding student outreach programs, contribute to the Humanities in their annual PLEXUS art magazine, foster team-building during intramural sports competitions, and anything else imaginable to ensure a well rounded, innovative, and proactive program.
[Read: 10 Questions for a Doctor: Sahil Mehta, MD]
3. Describe your medical school experience. How hard was it to finance your education?
I couldn't have been happier with my medical school experience. While the academics were of course very challenging and at times stressful, I quickly realized that UC Irvine fosters an environment of collaboration amongst colleagues.  Everyone worked together to excel together, an aspect not always the case at other institutions. My fellow classmates were amazing; two were groomsmen in my wedding and another classmate became my wife!
Similar to many students, I financed my education by taking out loans and applying to every scholarship and grant I could find. The most challenging portion from a financial standpoint was when I took a year off from medical school to pursue research. As I had anticipated doing so, I had saved some scholarship money to sustain me during this period, and also relied heavily on credit cards. Such an endeavor takes very careful financial planning, but I knew that it was an investment into my future; one that fortunately paid off when I matched into my Neurosurgery residency at UCLA.
[Read: What to Expect in Medical School Part 1]
4. How/why did you choose your medical specialty? Was there any part of your path to medicine that you would have done differently?
Given my interests mentioned stemming from my psychology background and my desire to pursue something very "hands-on," I had always suspected I would apply for residency in Neurological Surgery. Similar to my decision to enter medical school, I pursued every other specialty that even remotely interested me to be absolutely positive there was nothing else I could be happy doing. I was very actively involved in the Emergency Medicine interest group and shadowed physicians as often as possible, while also volunteering in a neurosurgery clinic and observing in the operating room. I entered every rotation with the expectation and hopes of loving it – advice I would highly recommend to every medical student, as you simply never know what you'll find fascinating until you allow yourself to completely engage in it. I looked into several subspecialties of Surgery, but nothing seemed to quite fit for me. Then I began my neurosurgery sub-internship. I was operating with Dr. Linskey, a prominent neurosurgeon in the field, and he let me drill my first burr hole for evacuation of a subdural hematoma; it was amazing. After the surgery, he pulled me aside, shook my hand, and said, "Welcome to the club." From that moment, I knew there was nothing else for me but neurosurgery.
5. What do you like about your job? What do you dislike?
I love the surgeries: they range from life saving bedside procedures to decrease intracranial pressure, or high intensity evacuation of intracranial bleeding after a motor vehicle accident, to technically detailed finesse operations for removal of brain tumors or clipping of aneurysms. The outcomes can be incredibly rewarding when you see patients come into the hospital completely devastated and they return for follow-up clinic appointments looking great. The appreciation we receive from patients and their families, knowing that we have improved and preserved their quality of life, is an unparalleled reward.
The downside to the job is that unfortunately, many patients present to the Emergency Department beyond the point of saving. As the specialists, it is our responsibility to discuss these findings with families and let them know that their loved one will no longer be the person they remember, and will unfortunately soon expire.  We treat each situation with the utmost level of compassion and empathy, and although we deal with these dire situations on a daily basis, this information is typically a sudden shock for our patients' families. To see their hearts break from such strenuous situations is a burden we must carry.
6. Describe a typical day at work. How many hours do you work a week?
New duty hour requirements cap the work week at 80 hours, although the UCLA neurosurgery department has a special exemption permitting a total average of 88 hours per week. A typical day may entail morning film rounds where we review all pertinent imaging from the previous day on our patients, then either operating all day, seeing patients in clinic, or managing the patients on service and seeing consults.
7. How difficult is it to balance work and the rest of your life? Do you have any strategies on how to balance work and life outside of work?
Balancing work and the rest of your life is extremely difficult, particularly in a surgical residency, double particularly in a neurosurgery residency. However, we prioritize and make time for the things that are important to us. If family life is important to you, make time for it. If a particular personal hobby is one of your passions, make time for it. Balance is the key to life and happiness. If all you do is focus on your career and neglect other aspects of what makes you whole, you'll never be happy; it will show in your work, and interactions with patients and colleagues will suffer for it. Find a mentor who does what you want to do (and does it well), and emulate them. If they can do it and make time, then so can you. You may be exhausted, starving, sleep-deprived, and haven't seen the sun for a week, but if you take the moment to appreciate the things dearest to you, you'll be happier for it.
[Read: 10 Questions for a Doctor: Tiffany Kim, MD]
8. Does your job allow you to have the lifestyle that you want?
My residency does demand sacrifice. Anyone who goes into medicine for the money and/or free time needs to reconsider their options. There are better ways to get rich, and more jobs that are less demanding. However, physicians (should) choose this profession because it's what they love to do, it's their passion; they'd still want to do it even if they weren't being paid. That being said, I often do what I must now, so that I can do what I want later. When things get tough, see #7.
9. What advice would you give to students who are interested in your specialty?
As I have done along my journey to neurosurgery, seek elsewhere. Look at other professions outside of medicine… if you still choose the medical school route, look at other specialties… and if at the end of the day there is nothing else you'd rather do than drill a burr hole at 3AM, you've found the right residency for you. This way, you'll love what you do and never work a day in your life. The length of the residency, the long hours, and the sacrifice won't matter because it's what you want to be doing for the rest of your life. It's no longer a choice at that point, it's just a part of who you are.
10. What advice would you give to people who are interested in becoming a doctor?
Similar to above. Take every opportunity to shadow physicians in the hospital, in clinic, and in the operating room; observe their daily activities even when not seeing patients so you have a complete idea of what it's truly like to be a physician. And don't just shadow one person, work with several people of various specialties. Don't let the personal characteristics of one person dictate your entire life's decisions.
Lastly, go into medicine for the right reasons; not because your family or friends want you to, or because you think its prestigious, but because there is nothing more you'd rather do than dedicate your life to helping others improve the quality of theirs.
[Read: Should I Be a Doctor?]