You've worked hard as a pre-med, started writing your personal statement, and know what to expect when AMCAS opens. You are ready to apply to medical school.
The big question is: which medical schools should you apply to?
Your school list is one of the most important – and yet one of the most underestimated – parts of the application process. It can make or break your chances of getting into medical school.
Most med students apply to anywhere between 20-40 different med schools, and MSAR is one of the most useful tools you can implement to make the process smooth. We'll walk you through MSAR basics and how to make a medical school list to boost your chances of acceptance.
What is the MSAR?
Every medical school in the U.S. and Canada has different admission requirements. To help you keep track, the Association of American Medical Colleges has compiled the Medical School Admission Requirements database (MSAR).
This comprehensive database allows you to compare your stats, coursework, experience and extracurriculars alongside each school to see if you would be a competitive applicant.
You can use this database to find medical school profiles containing a ton of valuable information about U.S. and Canadian medical schools. It's a great tool to learn in-depth information on any school of medicine in the country.
In addition, MSAR makes it easy to automatically compare your stats to each school's admission requirements, median MCAT and baccalaureate GPA stats. You can also use it to check out acceptance rates.
MSAR Cost & Subscription
How much does MSAR cost? MSAR offers the basic information about each medical school for free. However, a lot of good stuff is only available with a subscription. Fortunately, it is very affordable considering the value it provides — just $28 for a one-year subscription.
The AAMC website offers a fee assistance program for eligible students to cover many of their services, including complimentary access to MSAR.How do I access my MSAR after buying it? You can access MSAR after purchase at https://mec.aamc.org/msar-uihttps://mec.aamc.org/msar-ui/#//#/.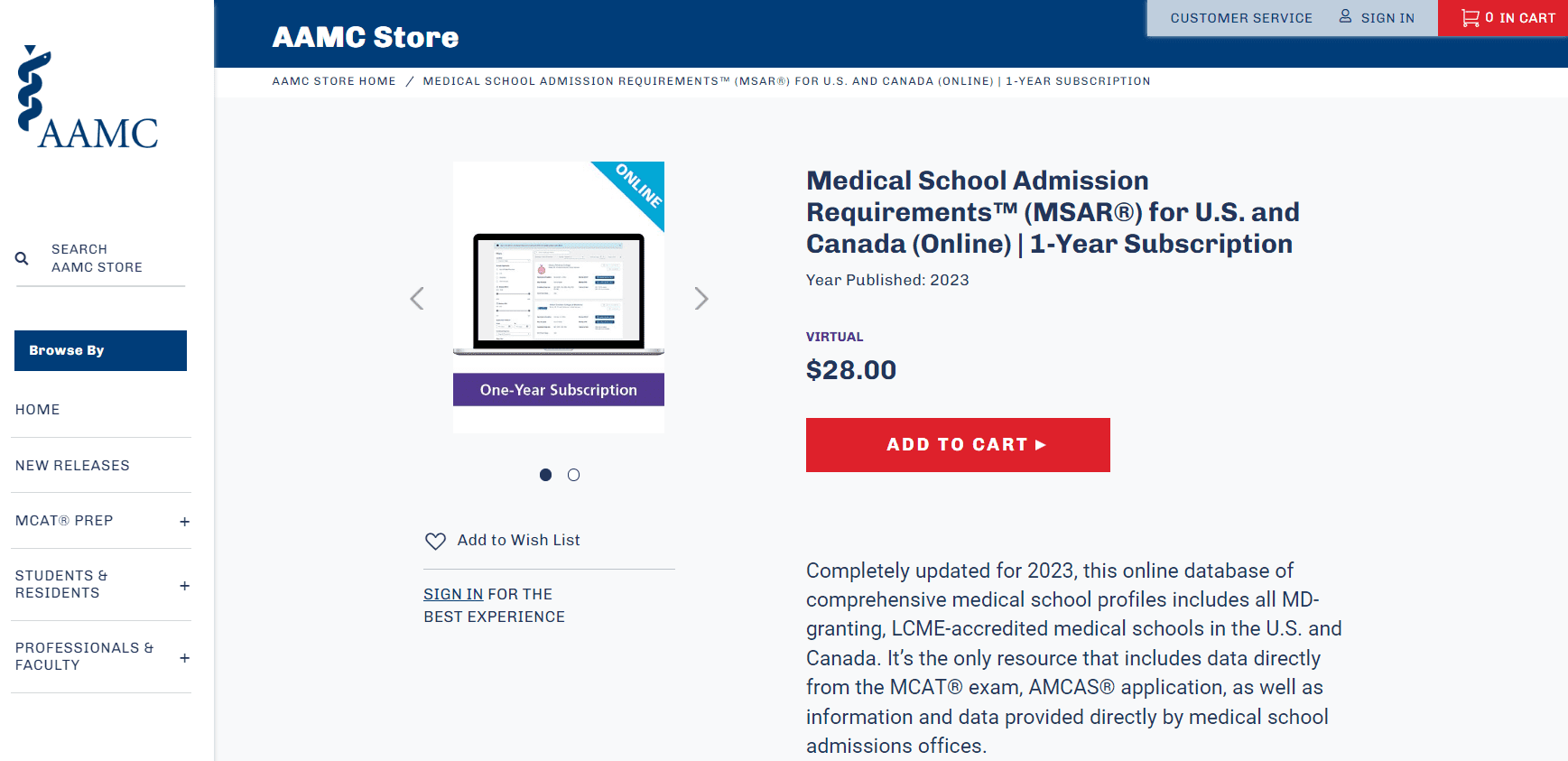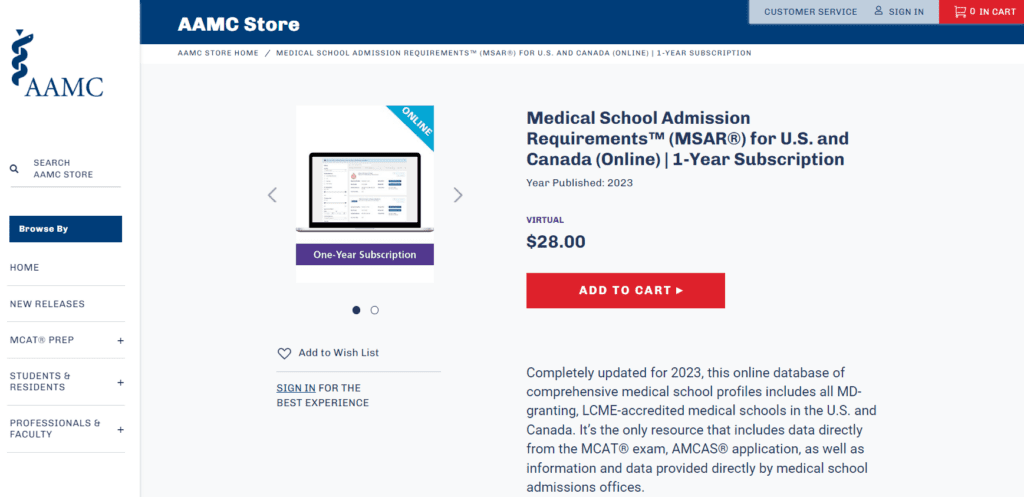 What's on a school's MSAR profile page?
Each school has a profile page in the MSAR database which contains information that is important to prospective applicants, such as:
School Overview: General information about the school, contact information, social media, first-year class size, and the school's mission statement — a valuable nugget you can tie into your upcoming personal statement!
Admissions: The school's specific admissions process, including policies, application deadlines, requirements such as undergraduate pre-med coursework, premedical experience and extracurriculars, the interview process, and waitlist information.
Acceptance Data: Includes median MCAT and GPA data for previously accepted applicants. In addition, the MSAR charts median GPA and MCAT data from the 10th to the 90th percentile and from the 25th to the 75th percentile. This provides an extremely useful breakdown of the scores required for acceptance into each medical school.
For example, if your MCAT score is above the 90th percentile for a school, it's likely an undershoot or far undershoot school on your list. Conversely, the school is likely to be a reach for you if your MCAT score is below the 10th percentile.
Read Next: When Do You Take The MCAT
Demographics: You can also access matriculant demographic information to give you a snapshot of the student body. This will include admissions statistics for gender, age, ethnicity and race, international students, and any disadvantaged status.
Education and Research: The school's degree programs, academic curriculum, and the opportunities it offers for professional development and research opportunities for students interested in pursuing experience outside the classroom.
Tuition, Aid and Debt: Medical school isn't cheap, so comparing the cost of different schools is a critical point to many students. This section includes in-state and out-of-state tuition costs, how many students receive financial aid, and the average amount of debt students have after graduating. Campus Life: Students looking for a certain lifestyle or campus type will find information in this section. It includes information about housing, student work-life balance, social activities and support systems the school has in place.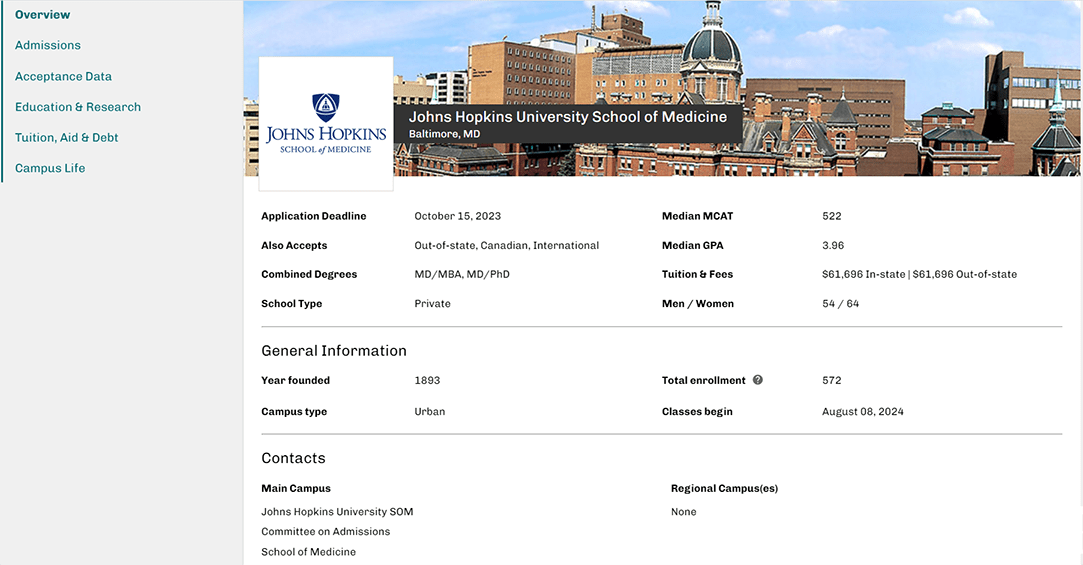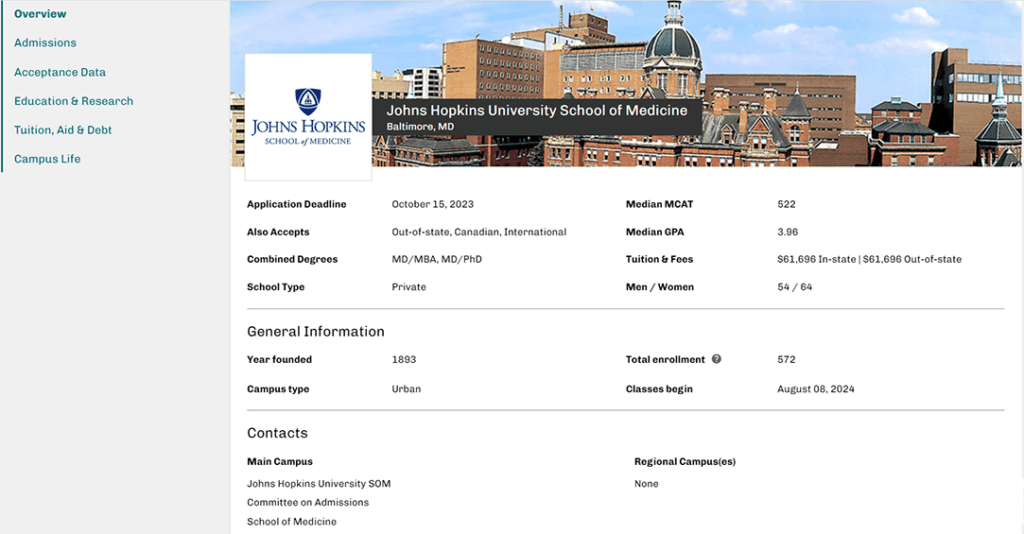 How often is MSAR updated? MSAR is updated annually, usually in April.
Step 1: Enter Your Coursework & Scores
On the "My Coursework & Scores" page, you can enter and save your MCAT, GPA, and coursework. Then, as you're reviewing a school, it will automatically show how your scores compare to previous applicants that were accepted.
Similarly, you can save your coursework, hours completed, and lab and research experience to see at a glance if you meet the school's admissions requirements.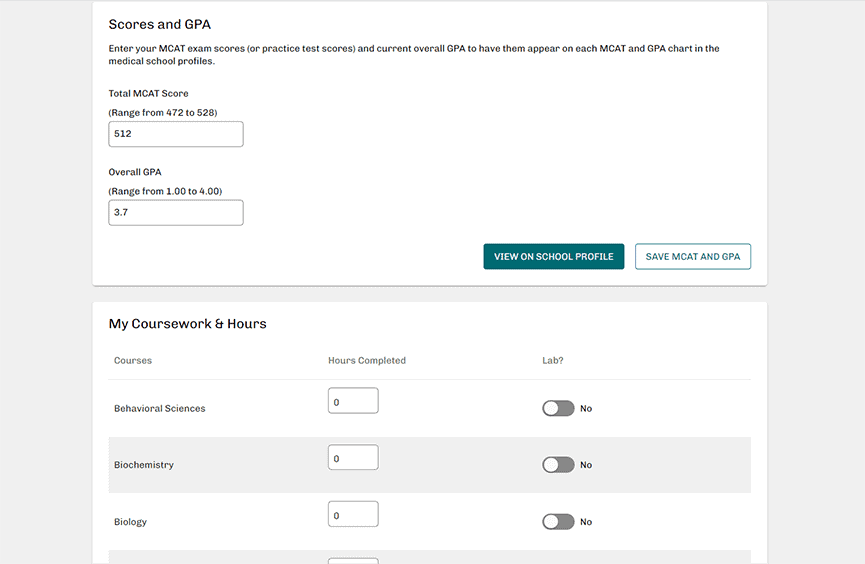 Step 2: Compare Schools
If you want to compare multiple schools, the "Compare" functionality will give you a side by side comparison of up to 10 schools. You can use this to begin comparing schools you've already dreamed about or thought of applying to. If there's a dream school on your list that requires prerequisites you don't have or a way higher MCAT score than you currently have, this will show you what to work on next.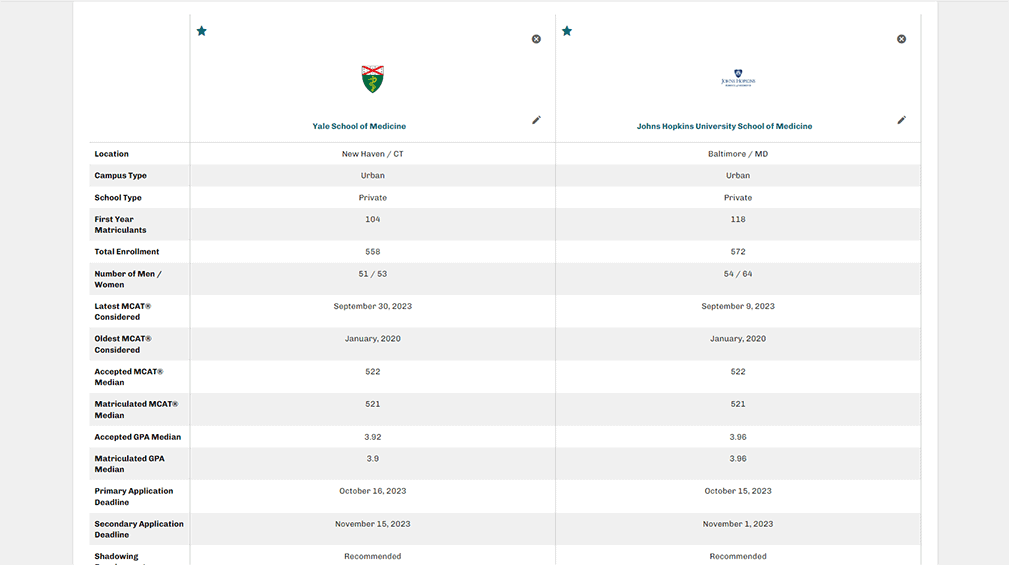 Step 3: Categorize Medical Schools
As you begin researching medical schools, you will find that you are overqualified for some schools (undershoot or often called "safety" schools), underqualified for others (reach schools), and a perfect fit for some. These sweet spot schools are your target schools.
Plan to apply to more target schools and fewer reach and undershoot schools.
The right mix really is key, and the only way to effectively categorize schools is to do your research and see how you stack up against the data.
Our friends at MedSchoolCoach created a proprietary algorithm to predict your chances of getting into medical school based on more than 50,000 data points and 15,000 real applicants.
The Chance Predictor on our site uses their algorithm to analyze your GPA, MCAT, state of residence, and ethnicity. It then assigns a color-coded category to each medical school so you can see at a glance which schools are safe, a reach, and just right to target. It's a fantastic starting point to give you an idea of where to start with your school list.
The chance predictor uses the following definitions to help students understand the different categories and the importance of creating a balanced school list:
Target: This range is your sweet spot. You have the best chance of getting accepted into a medical school when your range closely mirrors the range that they accept. There are no "safety schools," and being overqualified for other schools is not necessarily an advantage. Apply to more of these.

Reach: These are the schools that you are still in contention for, but your success will rely more on the other strengths of your application. Apply to a small handful of these.

Undershoot: Apply to a small handful of these schools if you feel weak in some areas of your application. Based on your medical school credentials you have a fairly competitive shot at acceptance at one of these schools

Far undershoot: These schools are numerically too low to be considered a safety school. Don't apply to significantly lower-tier medical schools as they may reject overqualified applicants to save interview spots. Apply to them sparinglyFar Reach: If you apply to these schools, you'll need to have significant strengths in other areas of your application to be considered. It's recommended to apply to these schools cautiously.
A quick note to all med school applicants: Getting into any medical school is an accomplishment, as only 36% of applicants get in. Nearly all med school applicants are bright, impressive individuals. Being accepted at a "far undershoot" school shouldn't feel like a letdown at all!
Read Next: A Guide to Medical Schools That Don't Require the MCAT
Step 4: Favorite the Schools You Want To Apply To
Once you've done your homework, you can "Favorite" the schools you decide to add to your list and view them from your "My Favorites" page. This is where you should start ranking schools to build your med school list.
We recommend being very judicious with your Far Reach and Far Underreach schools. Only apply to Far Reach schools if you're sure you have a convincing application.
Your reality may be that you will go to medical school wherever you get accepted. Hey, it's a competitive landscape out there, so that's a reality for many students! But there's nothing wrong with having a dream school, or with considering realistic factors — like location, cost, and personal interests — when researching schools.
As you research, you may also discover factors you didn't think were important, like how the school's residency match program works or how your learning style will mesh with a school's grading system.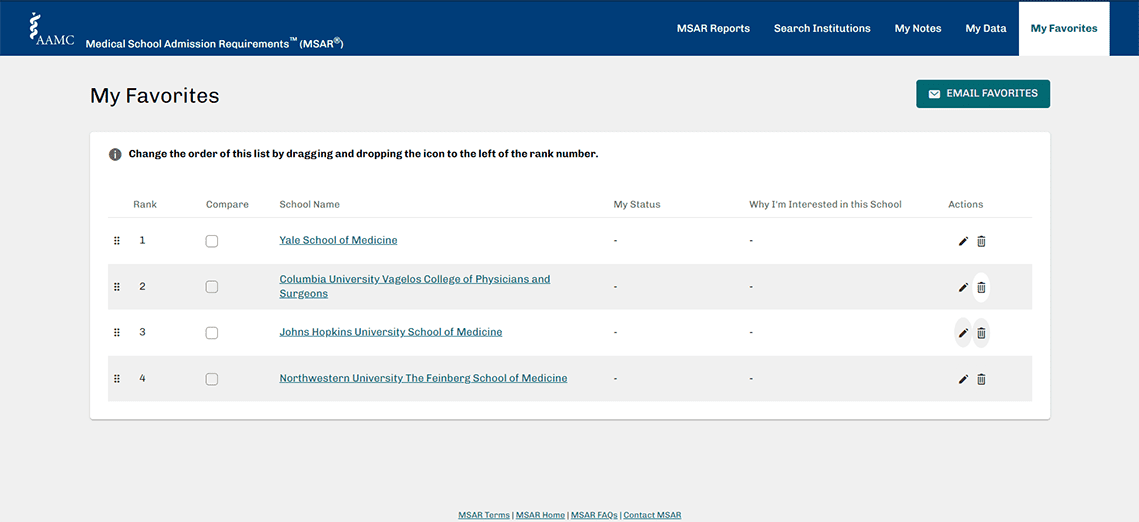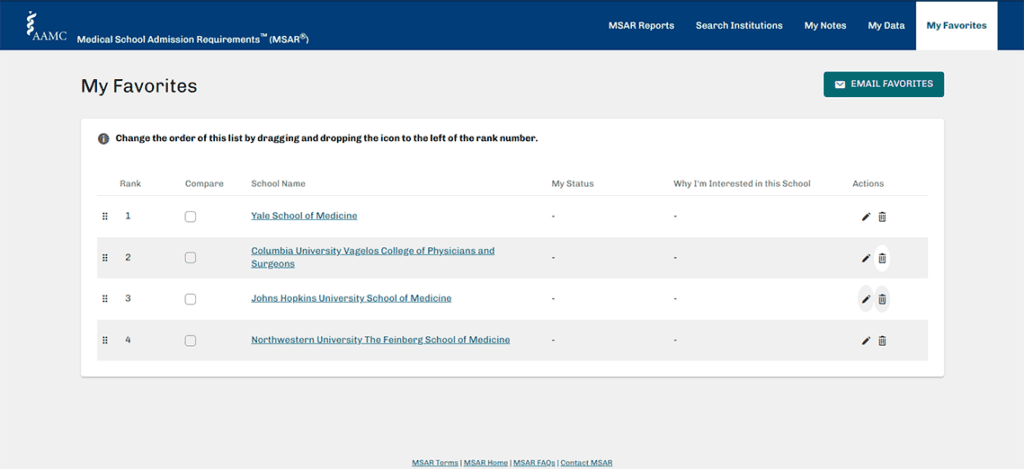 Co-founder and Director of Operations of ProspectiveDoctor.com, Edward Chang offers some insight for deciding where to apply to medical school.
Read Next: Should You Apply Early Decision to Medical School?
Step 5: Export Your List To Track Your Application Status
Once you create your MSAR school list on the "My Favorites" page, you may decide to export the list into Excel or Google Sheets to manage tasks and track your application status. This is an optional step to help you stay organized. But as a research resource for building your school list, MSAR is a must-have.
Check out The Ultimate Guide to Completing Your AMCAS Medical School Application from MedSchoolCoach.
How Many Medical Schools Should You Apply To?
It depends on the strength of your application, but in general, you should consider applying to at least 20-30 medical schools, whether allopathic or osteopathic. Too few applications, and you risk not getting in anywhere; too many, and you may find yourself overwhelmed with secondaries and interview invitations.
Applying to medical school can get pricey, which is another factor to consider when building your list. Submitting your application to schools using AMCAS costs $175 to send your application to the first school and $45 for each additional school.
Secondaries usually (but not always) require an application fee, too. These typically range between $30 and $130, averaging at around $100. If you receive multiple interview invitations in-person, you also have to consider the cost of travel and accommodations to visit campuses.
As more interviews are becoming virtual, you may be able to save some money there.
Here's how to increase your chances of getting accepted to medical school.
Need a hand finding the right DO or MD program? The admissions advisors at MedSchoolCoach have tons of experience helping pre-med students create a strategic and balanced school list to boost their chances of acceptance.
They also offer complete application advising services, including writing support for your personal statement and work/activities, interview prep, and everything you need to be a strong medical school applicant. Schedule a free consultation to learn more about our admissions advising services.