By: Ziggy Yoediono, MD, MBA
Now that it's the holidays, it's time to put away the chemistry flashcards and focus on what really matters: shopping! Whether you're out battling the crazy crowds or preserving your sanity by doing it online, don't forget to pick up a little something for your premed friends who have been there with and for you through thick and thin. These gifts will either strengthen your friendships or make your friends question it – either way, you'll leave a lasting impression!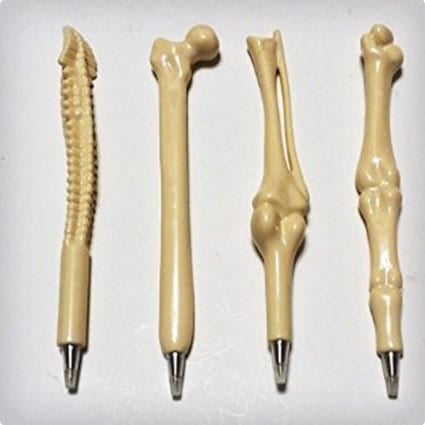 Are any of your friends budding Atul Gawandes? If so, make sure that they never suffer from writer's block by giving them a Bone Pen. The OrganTransplant Lunch Cooler is perfect for your aspiring surgeon friend who will be spending the rest of their lives rounding on patients at 4:00 in the morning. Every group of friends has a fashionista or two. If it's a gal, tell her that Louis Vuitton bags are so yesterday and that the new 'It Bag' is the Gray'sAnatomy Book Purse. And if it's a guy, nothing says, "GQ" like an EyeChart Tie. (It also works for friends who are aspiring ophthalmologists.) Hopefully you have at least one premed friend who likes to relieve stress by cooking up a storm. If so, the best way to make sure you're always on the invite list is to give an X-ray Oven Mitt.
This is the perfect gift for . . . yourself! During your premed and medical school years, you will go through about 4000 highlighters. Rather than using the same generic-looking ones day in and day out, try Syringe Highlighters. When you think that you don't have the energy to highlight one more word in your biology textbook, just look at these highlighters for inspiration. A must-have for ALL premeds. Hopefully, it's self-explanatory.