When approaching the medical school interview, it is important to convey a conservative and well-groomed image. Interview attire is a large part of the impressions you make on those you meet on the interview day.
||Read: "What to Wear to Medical School Interviews: Women"||
A male applicant has less flexibility in choosing his interview attire than his female counterpart. It is widely recommended to purchase a dark, well-fitting suit that is dark gray, navy blue, or black. In my humble opinion, black is too formal for a medical school interview, and yet a majority of applicants continue to wear black, and thus a sharp navy or gray suit is a subtle way to stand out amongst a sea of black at each school.
When shopping for a suit jacket, it's important to find one that fits well at the shoulders, and then to spend some extra money on the services of a tailor who can hem the sleeves for you to make sure that the suit fits your body type. The shoulder width of the jacket is nearly impossible for a tailor to alter, while the torso can be brought in and the sleeve length can be hemmed. Similarly, trouser leg length can be altered easily. Feel free to ask the salesperson if he or she can recommend an expert tailor, or peruse online reviews to find a tailor who will help you look your best.
The shirt underneath the suit should be white or light blue, with a tie that contrasts the shirt color without being too loud or obnoxious, whether it is solid or patterned. Your belt should match your shoes, stick to brown or black.
With accessories, a tie clip and a dress watch are the most I recommend. Avoid flashy jewelry, including rings, cuff links, or oversized watches. A watch is also more professional for checking the time, instead of pulling out your phone. A rule of thumb is to keep your phone on silent for the extent of the interview day – any checking of your phone, even if it is to look up a fact about the school, can give off an impression of boredom, which will hurt your image at the interview day.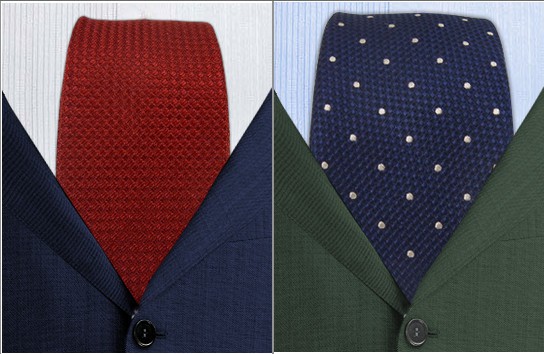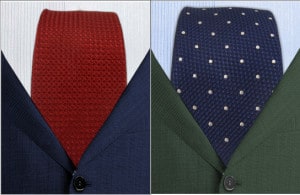 The two images above are great visual representations of color combinations recommended for the medical school interview. Article Image credit: TheTieBar.com
For further insight into what to wear to med school interviews for men, I reached out to the medical student community and asked them for their advice to medical school applicants:
"I wore a simple gray suit, blue shirt, and striped black tie. Brown shoes and brown belt. I liked gray better than black to be honest." -EC
"Pretty standard suit. Either black or charcoal gray. I'd switch between white shirt and a navy patterned tie or light blue shirt with darker patterned tie" – RL
"I wore a black suit, white shirt with black and blue striped tie. And a watch – I would recommend anyone to get a watch." – AS
"I always preferred a grey or navy suit. White or light blue shirt. Silver/navy/maroon tie." – ET
"I thought the full piece suit actually looked a little too rigid. I went with the blazer and slacks." – AC
"Nantucket reds all the way. Just kidding, a basic suit I think is good. I did a white shirt with nicer ties usually." – NV
"I got a suit from Brooks Brothers and took it to a tailor to fit it. Dark gray suit. It was around $30 to tailor it and I really liked it". – SJ
"I wore pretty standard charcoal suit with a matching shirt/tie and black belt/shoes. Also, my advice would be don't go white/light blue shirt. Try to stick out a little bit…I went purple in some, light green in some, obviously not over the top but just a bit unique". – RJ
As you can see, words such as standard and simple are often used to describe interview attire, and much of the students' advice echoes what we discussed in the article. Remain conservative and professional in your clothing, and allow your interview answers do the talking (literally) for you. Best of luck to our prospective doctors embarking on their medical school interviews this fall and winter!