As a Canadian medical school applicant, understanding the CanMEDS Framework is crucial for crafting a standout application that showcases your competence and suitability for the medical profession, as it identifies the necessary competencies for all areas of medical practice and provides a comprehensive foundation for medical education and practice in Canada.
What is the CanMEDS Roles Framework?
CanMEDS is a framework of personal characteristics and competencies that a physician must possess to best serve the needs of patients. The roles within the framework are interconnected in order to achieve best practice. Essentially, a person who demonstrates these roles represent the ideal candidate for medical school.
CanMEDS was developed by the Royal College of Physicians and Surgeons of Canada in 1996 as a training tool for physicians to improve patient care. It has become the most widely accepted physician competency framework in the world and is continuously reviewed and updated.
Summary of the 7 CanMEDS Roles
The CanMEDS Framework identifies and describes physician abilities required to successfully meet the health care needs of those they serve. These abilities are grouped under seven roles. A competent physician seamlessly integrates the competencies of all CanMEDS roles as a Medical Expert.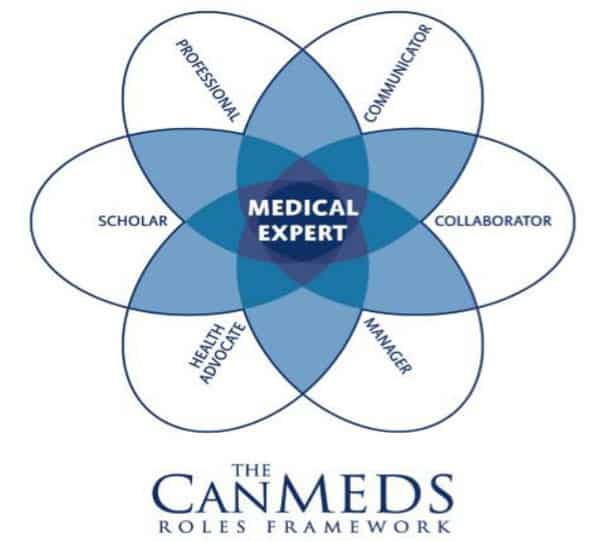 Medical Expert
A physician must be knowledgeable and up-to-date with their medical understanding, clinical skills, and professional values.
Communicator
A physician must be able to communicate effectively with both patients and other healthcare providers. This means listening to a patient's needs, understanding their viewpoint, finding common ground, and communicating a plan to patients as well as everyone else involved in the patient's care.
Collaborator
To be a good collaborator, a physician must be able to work well in a team with other healthcare professionals. This allows the patient to receive the best patient-centered care possible.
Leader
A physician must demonstrate leadership skills to lead a team of other healthcare professionals for the most cohesive and effective patient-centered care. Physicians are leaders in their community as well; they lead teams that contribute to societal healthcare changes.
Health Advocate
A physician must advocate for their patients' needs to enact change through communication and collaboration within the patient's community and circle of care.
Scholar
As a scholar, a physician demonstrates lifelong learning and commitment to evidence-based medicine. This can be achieved through personal learning, continuous re-evaluation of best practices, research, teaching, and actively seeking feedback.
Professional
A physician must demonstrate professionalism through best ethical and behavioral practices. Accountability to the profession as well as society and one's own personal health is important to demonstrate this commitment.
How Do You Demonstrate the Competencies in Your Medical School Application?
To increase your chances of getting into medical school, engage in volunteer work, extracurricular activities, and research, highlight these experiences in your personal statement and interview, and prepare responses to potential questions, while following your passions as there is no one definitive path to achieving this goal. However, here are the areas where you can help differentiate yourself from the crowd.
Your Time – Volunteer Work, Extracurriculars, and Research
Prove that you exemplify these competencies through the choices you make outside of coursework. Seek activities where you can gain experience in all seven domains. Work in teams, advocate for the underserved, and explore an area of research that excites you. There are SO MANY WAYS to demonstrate these roles, and there is never a one-size-fits-all approach to getting into medical school. Follow what INSPIRES you, and keep this framework in mind. When filling out your application, remember to show that you possess these competencies through your experience and what you learned from them.
For example, a medical student could volunteer at a free health clinic, participate in a student-run health organization, and conduct research on health disparities to demonstrate competencies in working in teams, advocating for underserved populations, and pursuing intellectual curiosity outside of coursework.
Your Writing – Essay Questions & Personal Statement
Keep this framework in mind with everything you write on your application. Explain how you gained experience with the healthcare system and read up on what interested you to demonstrate lifelong learning. Discuss how you gained leadership skills through your volunteer choices. Use language that shows you possess these competencies.
Your Communication Skills – Medical School Interview
When you're asked a question where you have to give an example from your past, remember to keep this framework in mind. They want to see that you can demonstrate these competencies. Don't just tell them that you are a health advocate-show them through your experience. Don't just tell them that you possess leadership skills-show them through what you have already done. Make sure you prepare well for interviews and remember that you can practice right here at medschoolcoach.com! You want to have these experiences, words, and phrasing on the tip of your tongue so that you are fully prepared to show that you are the ideal medical school candidate!
How Are CanMEDS Roles Relevant to Your Application?
The CanMEDS framework is a guideline that all physicians should follow for quality healthcare. What better time to start than now? Get comfortable with these roles as early as you can in your application process in order to make good choices with your extracurriculars and better express what you gained from them. Good luck!