The Complete MD/PhD Applicant Guide is an extensive student reference guide I co-authored that maps the MD/PhD application process. It is the only medical school application book devoted entirely to the MD/PhD process and covers everything from choosing programs, writing MD/PhD-specific essays, preparing for interviews, to navigating the waitlist. Here's a peek of what MD/PhD applicants can learn.
What is a MD/PhD Program?
MD/PhD programs lead students to a dual degree by providing extensive research and clinical experiences and unique courses and opportunities that enable students to blend their work across these areas. Currently, there are more than 100 of these types of programs, and they typically take 7-8 years to complete.
Graduates of MD/PhD programs, known as physician-scientists, are prepared to care for patients as well as research the treatments, therapies, and threats involved in their care. Career-wise, most physician scientists go on to work in academic medical centers, research institutes, or companies specializing in biotech or pharmaceuticals.
Difficulties in Applying to MD/PhD Programs
As clinical medicine and academic research become increasingly intertwined, the role of the physician-scientist is particularly salient. As a first-year MD/PhD student, I appreciate the significance of dual training in medical practice and hypothesis-driven research. However, when I previously applied to MD/PhD programs , I was disappointed by the lack of structured resources and frustrated by the informal conflicting advice offered online. When reviewing reputable books and resources on the medical school application process, few mentioned the important differences in the MD/PhD dual degree application.
After being accepted to an MD/PhD program, I wanted to improve the application process for future classes and help others apply to MD/PhD programs. Working with two friends and fellow MD/PhD students, Jordan Setayesh and Amitej Venapally, we wrote the first book devoted exclusively to the MD/PhD application process.
Solutions for Understanding the MD/PhD Application Process
Our book, The Complete MD/PhD Applicant Guide, is a comprehensive guide for anyone who aspires to become an MD/PhD student and, ultimately, a physician-scientist. It begins with an overview of the structure of a typical MD/PhD program as well as student outcomes and career choices of MD/PhD graduates. The book then provides an outline of the academic and extracurricular prerequires as well as the basic components of the application itself. It also provides advice on the factors that MD/PhD applicants should consider when creating a school list. Continuing to the main application, it then provides dozens of real sample essays that are specific to the MD/PhD application.
Moving past the written application, The Complete MD/PhD Applicant Guide provides detailed explanations of the many types of interviews applicants will encounter and offers strategies on how to prepare for them by integrating our own personal experiences as applicants with discussions with MD/PhD program leaders.
Suggestions for how to cope with the year-long application timeline and how to respond to acceptances and waitlist offers are also included in this book.
Lastly, we, the authors, provide our own personal stories, perceptions of the benefits derived from specific activities, and the logic used to navigate the research and medical fields. Not only does this book provide a detailed technical and strategic guide for succeeding in your MD/PhD application, but it also resonates with readers and demonstrates the diversity of paths that MD/PhD students can take in their journey.
How to Access Resources and Move Forward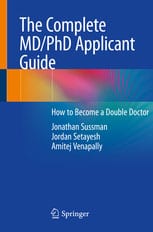 The Complete MD/PhD Applicant Guide is modeled after what we wish had been available when we were applying, and hope that you will benefit from our trials and errors.
For answers to frequently asked questions, important updates, and other resources, please visit our website, The Complete MD/PhD Applicant Guide – How to Become a Double Doctor.